Check out this dope blog by the lovely T-Quest. It's a good good read. Especially from a woman's point of view being an entertainer herself.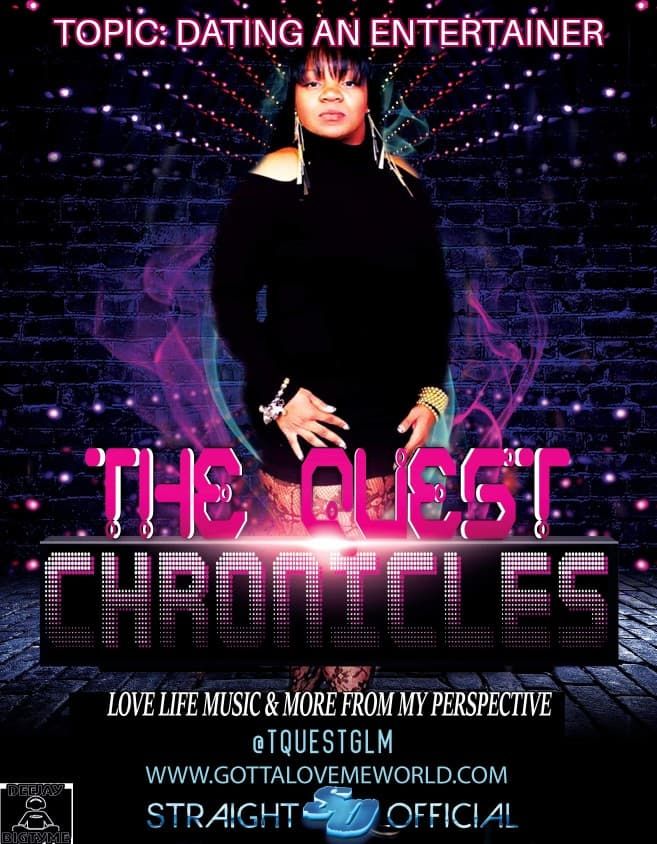 Lights, camera but maybe no action! Being an entertainer, dating an entertainer or attempting to date at all is not what it cracks up to be. Well, at least not for me. I personally feel it's a gift & a curse trying to balance out having a music career while bringing some normalcy to my life. 
Shout out to all my independent women! Boss Ladies stand up! As a woman who is a boss, it's rewarding. I call the shots, they report to me, I am the head lady in charge but once clocked out, things change. There is nothing wrong with having your own but some of us desire to share it with someone special. 
I've tried to date regular men as well as men who work in the entertainment industry & so far, it has not worked out whatsoever. Let me write a few of the situations I been in to give you a taste of my dating experiences. 
Let's talk about going out. Whether it was a regular guy or an entertainer (Music artist, Djs, etc) I ended up having the same problem or issue. As a well known public figure, when I'm out and about people tend to come up to me, say hi, catch up,& possibly want a picture. I'm an entertainer so this shouldn't be shocking. As for the men I was dating, they had a problem with it. Some felt left to the side, some showed insecurities, feeling uncomfortable to the point they started to think the worse. "Who's this person?" "How well do she know him?" I wonder if they ever been intimate or is this really a fan?" Usually people assume only females think like this but I know from personal experience that so do men. 
To a certain extent I can understand why regular guys would feel some type of way because they're not use to this lifestyle. At first they may feel they can handle it until they actually have to. As far as entertainers, I was very shocked! You work in the same field as me. I expect you to have a better understanding of how it is. Women come up to you but I don't feel no type of way. Either way, if a person is not secure within themselves, there will always be a problem. 
Another big issue is TIME. We're always on the go, appearances, performances, bookings, meetings & more. Not just entertainers neither but in this case, we are the topic. Many understand time is limited but still complain when they don't get enough of the other person's time. I know it can get hard as well as very challenging but as I stated earlier, this comes with the territory. We have to sacrifice and compromise but don't try to make us feel bad because we can't give you all the time you want. That's not fair, especially if you see many of us trying to balance it all out, the best way we know how. This goes back to knowing and understanding your mate or potential mate. It's not for everyone. 
Social Media: With this topic alone I can write a book series but I'll keep it short.LOL Social media will have you walking on egg shells if you don't know how to use it properly. From fans, to stalkers being flirtatious to sliding in Dm's, It can get messy if you allow it to. But let's not focus on others, let's focus on the two in the relationship or "talking" to possibly be exclusive. Some will see all your posts, notice what you click LIKE on, pay close attention to what people write on your page , how you respond and if you interact according on their page as well. Guys I may have been interested in, definitely took the fun out of it all! They were too into their feelings not realizing that it's nothing but social media and if they paid more attention to me and not others, they would have noticed that. 
How long is your studio sessions? 
Who were those people in your Instagram video? 
How come you're not home yet? 
You have to go out of town again? 
How come I can't go? 
Do you have something to hide? 
Who are you with? 
This blog only scratches the surface but I'll end it here for now. Just beware of who you date, trying to date & know what may come with it. 
As usual, I only gave a tease on the topic. Why, because I love for you all to chime in with your personal experiences & opinions so you know what to do below. 
This is Ms Gotta Love Me herself, it's T-Quest Tuesday & you've just been Questified! Show love by sharing & following me on social media at TQuestGLM 
Email me topics to discuss & QUESTions you may have. To learn more about me or to hear about certain topics in dept please download my app "T-Quest" in your google play store & visit my website GottaLoveMeWorld.com