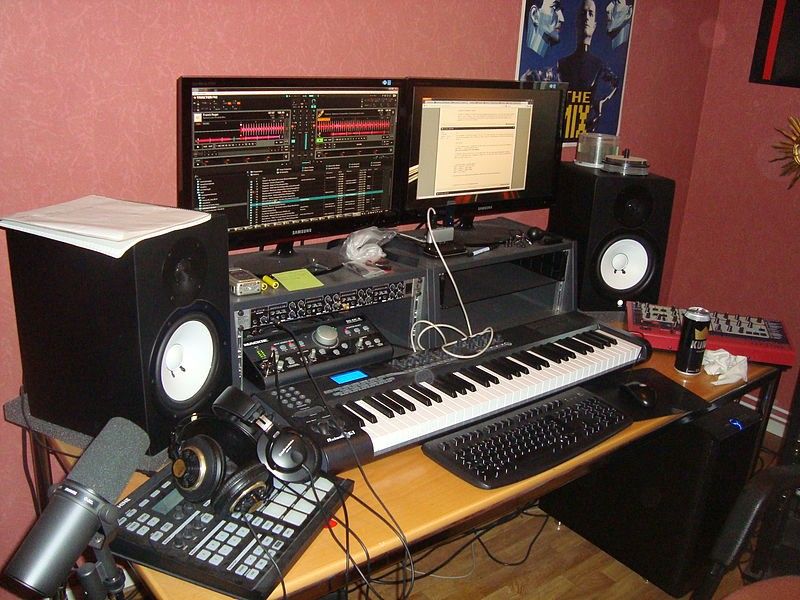 Hey Producers, This was great article I found on medium.com
I love beats and electronic/sample-based/instrumental music. That's why I started Micro-Chop. 
I want to do anything I can to help musicians/producers make a meaningful income from their creativity and hard work. I think many of the producers I know and admire could reach a new plateau of success with just a few tweaks to their current approach. With that in mind, I want to share some of the things I've learned in my writing to help more people find success with digital music platforms. 
Before we get started/in the interest of full transparency with my readers: It's hard to find a universal approach that leads to great success for every artist. Having said that, I think following the steps outlined below will at the very least increase your listener base by a significant amount within one year. 
I've made the same suggestions that I make below to several artists who have followed them. They have since earned tens/hundreds of thousands of Spotify plays every month and experienced a huge spike in visibility. 
I of course would love to hear negative and positive feedback if you try some of these ideas. 
Step 1: This is the most important one and I can't stress it enough — get your music on every streaming platform. The easiest way is probably using DistroKid. They get your music up on Amazon, Deezer, iHeartRadio, iTunes, Apple Music, Pandora, Google Play, Spotify, Tidal, and over 150 other online services. For $20/year you can upload unlimited songs and albums. Competitors tend to be much more expensive. 
Before using DistroKid, do some research. Most producers I know have had good success with them, but one producer had some of his music removed when one of their algorithms discovered uncleared samples in a few of his beats. If you have a beat tape/album with really, really obvious and unaltered samples, you might want to ask around before using them. 
Step 2: Spotify has 159 million active users and 71 million premium subscribers. They also have a thriving sponsored playlist culture that can lead to massive spikes in your monthly streams. Other streaming platforms also have a growing audience for playlists. To make it easy easy as possible for their curators to discover your work and add you to a playlist, experiment. 
Micro-Chopping STLNDRMS — an exclusive, 22-track playlist. 
Use DistroKid to release individual songs as singles. These singles will then appear on all of the platforms listed above. Or, release a series of singles at regular intervals and then release all of them together as one album. You can even experiment with putting up singles from your older releases. Every release, both single and full length, acts as a funnel for potential listeners that will drive them to your page and your music. 
STLNDRMS is a really good example of an artist who benefits from releasing singles — he's always putting up new songs and it has earned him quite a bit of success on streaming. (Editor's note: STLNDRMS explained to me that sometimes Apple Music erroneously lists singles as albums. This seems to be a bug they haven't fixed yet.) 
If you've produced an entire album for an MC or vocalist, you should definitely release an instrumental version of that album. The more music you upload, the greater the chance people will discover it. The more people that discover it, the greater the chance it ends up on an official Spotify playlist. 
Don't be afraid to reach out to Spotify and other streaming platforms — and their respective playlist curators — to see if they'll feature one of your songs on a playlist. The worst they can do is say no. 
Step 3: Volume matters. Don't sacrifice quality for quantity and don't make yourself miserable, but in the current music market, it's difficult to put out one instrumental album every two years and stay relevant. Try to release with some degree of frequency and consistency, even if you're just dropping singles and EPs. I see many talented producers posting beats on SoundCloud regularly but not uploading them on paid streaming platforms. Upload them on both. 
Can you commit to making one new beat every few weeks or every month? If the answer is yes, do it with some kind of consistency and get those songs up on Spotify/other streaming platforms. It will take time, but this will eventually lead to more listeners and listens. 
Many producers with one or two projects on Spotify and no singles or other releases to speak of complain that they don't get any traction on the platform. It is highly unlikely that you'll get results with just one or two full length releases and nothing else. If you only have one album, trying posting some of the songs as singles. 
Step 4: Utilize SoundCloud. For all of the issues they've had recently, they can still be a huge driving force for traffic and a great way to get your music heard and widely shared. There's still a very dedicated crew of producers who use SoundCloud and repost songs that catch their ear. Plays on SoundCloud can lead to people heading over to your Bandcamp page or listening to you on a paid streaming service. 
The Bandcamp version of Oddisee's 'The Beauty In All'. 
Step 5: Also utilize Bandcamp. It's a great, artist-friendly service with a very passionate user base. Their compensation model is one of the best around for artists, they have great articles and content, and they bust their ass trying to help musicians. 
They also let you sell physical releases rather seamlessly next your digital releases. Vinyl CDs, cassettes, etc continue to do well in 2018. There's no telling how long this resurgence will last, but you certainly don't want to neglect physical releases if they're already a part of your model. 
Having sung the praises of Bandcamp, I don't recommend using them exclusively. I often see people on Facebook groups talking about how using Spotify/other streaming platforms will hurt their Bandcamp numbers. I don't think this is the case. 
Don't ignore Spotify and expect Bandcamp will magically give you enough listeners to have a sustainable career. Use Bandcamp to build synergy with your streaming presence and vice versa. Oddisee is a great example of how this can work. His song "After Thoughts" has over 13 million plays on Spotify, but it isn't hurting his Bandcamp sales of The Beauty In All or any of his other albums. To the contrary, it seems like it's giving his Bandcamp numbers an incredible boost. 
Obviously, given his crazy Spotify spins he is a major outlier. But, your goal should be to build your audience across the internet/multiple platforms, not just one or two places. Through years of consistent, good work and a utilization of all platforms, Oddisee built a crazy following in multiple places. If you stay the course and keep building listeners in multiple places, it seems likely that you will see or continue to see positive results on Bandcamp — and elsewhere. 
Step 6: Upload official audio of your music on YouTube. (This quick tutorialshows you how.) Sadly, once you get big enough, someone will probably do this with your music anyway — with or without your permission. Why not beat them to it and build a following on YouTube that benefits you? 
I've written several articles about YouTube's vast audience of listeners and how they've helped somewhat obscure/very obscure rap records from the 90s get over 1 million views. Use them to your advantage. 
Official Seneca B audio for her ADMB and Joon Jukx collabo "Ghost". 
Producer Seneca B — whose song "Angels" recently broke 1 million plays on Spotify — is using this tactic. Though her YouTube numbers are still relatively modest, you can see songs like "Ghost" really starting to take off with over 12,000 plays. Again, these aren't crazy numbers right now, but they could be with time. Every little bit helps. A discovery on YouTube can lead to a discovery on a different platform and vice versa. 
Step 7: Think big picture, beyond mere sales and streams. The industry has changed a lot, even in the last 3–4 years, and it's important to recognize and try to understand those changes. The value of a vast reach goes beyond sales and streams — it also puts your music in front of countless people who might want to use your beats for additional creative opportunities. 
Again, going back to Oddisee, his gains across multiple music platforms have led to other lucrative licensing opportunities. 
"I just got two messages for two separate licensing opportunities. One from ESPN and one from a premiere league in Ireland," he explained in a 2016 interview with DJBooth. "I'll license a song to them and nobody will ever hear it, but the money I make from that is someone's salary. Everyone thinks I'm underrated, but I just made someone's salary from one song." 
The same thing could happen to your music if you get it in front of enough people. 
Step 8: Do something novel, unique, and surprising. It's a crowded market out there and sometimes being good isn't good enough. You can stand out from the crowd by doing something truly unprecedented. Granted, you don't need to do this on every project, but it doesn't hurt to have a release or two that raises some eyebrows. 
Official music video for Juicy The Emissary's "B6", which samples "Have Yourself A Merry Little Christmas". 
Make a crazy album out of a weird, specific sample source, make a holiday-themed beat tape, make a really short album, or a really long album. Whatever it is, make sure it grabs the listener's attention. 
For more on this, check out my article on Juicy The Emissary's Attention Kmart Choppers and my article on Christmas-themed beat tapes. 
Step 9: Don't get complacent. Data suggests Apple Music will soon take over Spotify in paid US subscribers, so don't sleep on other platforms. Talk to other artists about the pros/cons/hidden benefits of different platforms and make sure to keep an eye on shifts in the industry. It's annoying but necessary to keep up with what's happening — technology and consumer patterns tend to evolve and change quickly. 
Step 10: Pay it forward, share your knowledge, and help other people. 
Step 11: Let me know if any of this was or wasn't helpful.